The Boy Scouts of American removed an openly gay scout leader in the first enforcement of last year's new rules barring them, NBC News reports: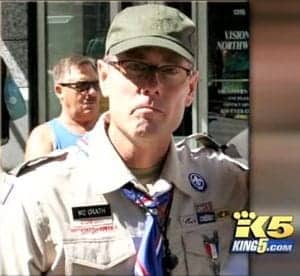 Geoff McGrath, 49, leader of Troop 98 in Seattle's Rainier Beach neighborhood, is believed to be the first gay adult to be booted from the Boy Scouts of America since it held a controversial ballot last May allowing gay youth—but not adults—to participate in one of the country's most popular youth organizations. The Scouts had severed ties with gay adults in previous years, before the vote to admit gay youth, but McGrath, an Eagle Scout, had been hoping for a different response in this new era of Scouting.
"It's extremely disappointing to not be fully supported and defended in my membership," McGrath told NBC News. "They are complaining that the problem [his status as an openly gay man] is a distraction to Scouting and they don't seem to understand that the distraction is self-inflicted."
NBC News planned to do a story on Troop 98. The BSA said they removed McGrath after he "deliberately injected" his sexuality into Scouting in an "inappropriate" fashion by speaking to NBC News about it:
McGrath's Troop 98 is part of the BSA's Chief Seattle Council, which said late Sunday that it didn't inquire about his sexual orientation—as directed by BSA policy—when he applied for a leadership position, according to Sharon Moulds, the council's top professional leader.
Moulds said she found out McGrath was gay only after NBC News contacted her. "It was then that we became aware of his intentions to make a public statement about his orientation and use our program as a means to further a personal agenda," she wrote in an email.
Seattle's KING5 spoke to McGrath about the dismissal.
Watch KING5's report, AFTER THE JUMP...