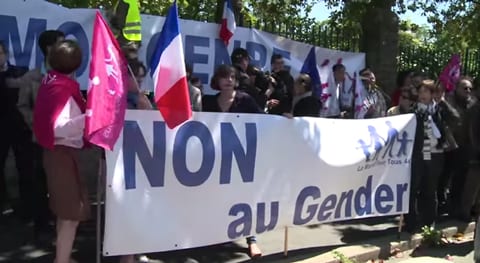 Protestors from France's anti-gay group Manif Pour Tous hijacked a student-led protest against sexism in the western town of Nantes this week.
The protest originally sought to show male support for gender equality, but Manif Pour Tous — a group that used violent rhetoric in opposing French marriage equality — used the protest as a way to highlight their own opposition to a number of gender equality measures recently passed in France, suggesting that the real goal of gender equality class lessons is to covert Socialist plot to teach children to become gay and transgender:
The notion that gender is socially constructed is a bugbear of France's anti-gay marriage movement, which has called for "the withdrawal of the concept of gender theory from all school manuals, decrees and draft laws"…
Vincent Peillon, the education minister, said the suggestion that "we teach little boys how to become little girls" was a "totally false rumour", adding: "Don't worry, this is about education on equality between girls and boys, respect between girls and boys, that's all."
… The controversy (over gender equity lessons in schools) erupted as France's parliament approved a sweeping gender equality law, whose measures include extending paternity leave in France to six months, increasing fines for failure to reach parity in politics and business and banning "mini-Miss" beauty pageants for under 13-year-olds.
France's new gender equality laws include penalties for those who try to prevent female access to aborition information, banning companies with male-dominated boardrooms from bidding on public contracts and fining political parties and other political organizations for failing to nominate or appoint equal numbers of female candidates.
The student protests still went off without much incident. Earlier in the school year, France's far-right and anti-gay organizations encouraged thousands of parents to keep their kids home from school to protest the gender equality lessons.
Watch video of the protests AFTER THE JUMP...