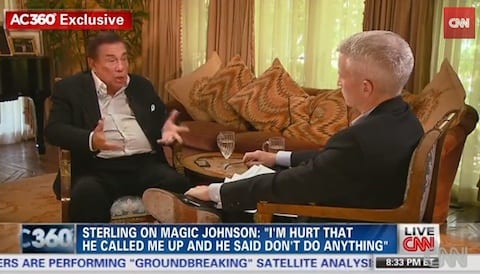 Last night CNN aired the full Anderson Cooper interview with banned-for-life LA Clippers owner Donald Sterling, none of which helped Sterling out of the hole he has dug himself following the release of a recording in which he told his girlfriend not to bring black people to his games or appear with them in photos.
Some of Sterling's most jaw-dropping comments last night were about Magic Johnson:
"What has he done, can you tell me? Big Magic Johnson, what has he done?...He's got AIDS. Did he do any business? Did he help anyone in South LA?...Well, what kind of a guy goes to every city, has sex with every girl, then he catches HIV? Is that someone we want to respect and tell our kids about? I think he should be ashamed of himself. I think he should go into the background. But what does he do for the black people? He doesn't do anything.
Watch, AFTER THE JUMP...
Full interview: