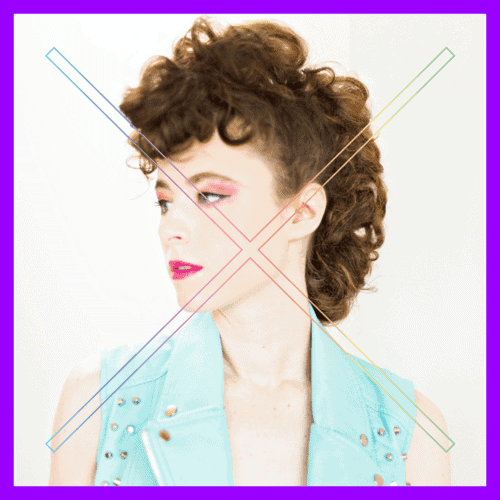 BY OCCUPY THE DISCO / RU BHATT
The OXD Mirror is a weekly music column brought to you by the boys of OCCUPY THE DISCO (OXD), a New York City based collective created by three music lovers, Ru Bhatt, Josh Appelbaum, and Tad Haes, who want to share their love for disco, house and dance music with the world. 
Kiesza's lead single, 'Hideaway,'  already in heavy rotation on many summer playlists, is well on its way to topping the charts worldwide. The Canadian dance starlet has followed up to her breakthrough 'Hideaway' video with another must see video for her latest single, 'Giant In My Heart.' Not only does the song prove Kiesza is no flash in the pan, the video also does not disappoint. It follows the story of a man that lives dual lives, one that does not make him happy and one that does. Sound familiar? With these two hits under her belt, Kiesza is building some high expectations, but I have full faith she'll resonate with gay audiences and deliver a fantastic album later this year. 
CHECK OUT MORE REMIXES AND ORIGINAL TRACKS AFTER THE JUMP...
Kitsune signees Citizens! deliver another dose of sunshine with 'Lighten Up,' which receives a dreamy remix treatment by Sweden's Tobtok.
Self-appointed 'Bass Drum Dealer' Anna Lunoe releases her first track since being signed to Ultra Records, 'All Out,' a summery track with catchy vocals and deep house vibes.
Duke Dumont's 'I Got U' is currently topping the UK charts making it the perfect time to build buzz around his follow up single, 'Won't Look Back,' with features sampled diva vocals that are sure to make gay men happy on the dance floor.
Treasure Fingers's new house track about "ghetto booty," 'Honey Dip,' is likely to follow suit.
Horse Meat Disco's Severino Panzetta and BBC's Nico De Ceglia just debuted their unbelievable remix of my favorite track from Basement Jaxx's new album, Junto. They turn the poppy original into a hot and sweaty affair!
Hot Since 82's remix of 'Cameleon' continues with those late night vibes by adding his signature dose of drama to the dance floor.
Finally, we continue to "feel the heat" with a brand-new Hercules and Love Affair remix for FCL's infectious 'It's You,' which I originally shared back in April of last year.
OCCUPY THE DISCO (OXD) curates and recommends music events to the gay community in NYC—in an effort to move the focus of the nightlife scene beyond the promoter and venue and to the music itself. OXD's goal is to educate, entertain, engage and empower the gay audience to reclaim their ability to question and experience the unknown. The OXD Mirror will serve to showcase tunes that are definitely off-the-beaten-path but rightfully deserve the attention of the gay ear.
This week's post was written and curated by Ru Bhatt. Check out more of his music picks on his podcast, The Ru-Mix and on Made In Brazil.

Be sure to check out these tracks and more on our Spotify Playlist. For more information on OXD, check out our website and accompanying blog at www.occupythedisco.com, like us on Facebook, or follow us on Twitter: @OccupyTheDisco.