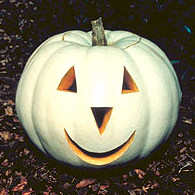 It has been reported to me that gay men have been scouring pumpkin patches in New York and other cities for white pumpkins in an attempt to make their Halloweens more upscale, minimalist, and as much like Ian Schrager hotel lobbies as possible. This trend is rumored to have been spawned by an article in the most recent issue of Martha Stewart Living, though I don't read that publication so I wouldn't know.
What I do know is that two Halloween homos (friends of mine) in New York who really try to go all out for the holidays have found that the demand has driven the price ($50 per pumpkin) of white pumpkins out of reach even of gay men with…disposable income!
So — they were only able to purchase one white pumpkin and had to settle for surrounding it with a bunch of tired orange ones and other assorted warty gourds. They probably even had to pull out that most dreaded of autumn cliches, the wicker cornucopia. Poor boys. I feel so sorry for them.
I would try to maybe FedEx them another, but because we've had striking grocery clerks in L.A. for a week now and I don't want to be a scab, I haven't had the chance to check out if there are any white pumpkins at the uber-gay Pavilions supermarket in West Hollywood. The only thing I can say for certain is that this Halloween, WHITE IS THE NEW ORANGE. You heard it here first.