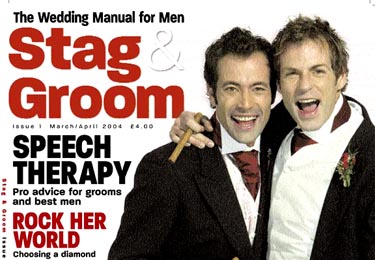 Now, from all outward appearances it would seem that the two "blokes" on the cover of this new publication from the UK will soon be off for a romp in their honeymoon suite together. But, from the I'm so confused school of disposable male media comes Stag & Groom, a magazine supposedly directed at heterosexual husbands-to-be and their best men.
It's impossible not to look at the selection of juicy nuptial-oriented items inside and not be totally amused:
Speech Therapy: Pro advice for grooms and best men.
Just in case you're not drunk enough to really let go.
Rock Her World: Choosing a Diamond.
Because in a year that's the only thing she'll still value.
Do Your Duty: The Best Man's Responsibilities
How to give a great going-away blow job.
Reclaim the Wedding List: She says napkin rings, you say surround sound.
Just in case you forgot, real men are really only interested in stereo systems.
Wedding Gear Tried & Tested: The Suit, The Waistcoat, The Shirt.
Yes, fashion is now gear. Calling it fashion is just too icky gay.
Publisher Chris Hanage recently told icNewcastle, "We have really hit a chord. I came up with the idea for the magazine because of a couple of horrid mistakes I made when I got married, and ones that I heard that other people had made."
What was the mistake? Letting his wife find out that he was more into putting the wedding together than she was?
I am dying to get my hands on a copy of this. I'm not kidding. There must be an article by Carson Kressley inside — somewhere near the back. Please, please, please someone in England send me one. And let's hope it includes a fashion spread starring the hotties on the cover: Helping your groom get dressed.