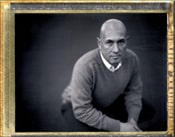 "At some point in the future, everyone is going to have a picture on the Internet that they are unhappy about."
Deborah Solomon lobs a softball interview at Jeff Gannon in the Sunday NYT magazine. Solomon's curt style in this case results in a throwaway exchange that offers no real insight into the White House hooker. I'd like to see Vanity Fair's George Wayne on his case. Those meant-to-be-penetrating questions would surely be a bit more provocative.
I did find this exchange interesting however:.
Do you find it hard to be a gay conservative in this country in light of the right-wing hostility to gay rights?
"I prefer that to be a private issue. I am more interested in national defense, taxation and immigration than in personal issues. I would like people's personal lives to be behind the barrier once again, like they used to be."
Still, it seems fair to ask about your position on gay marriage.
"My position is that I can't imagine that gay marriage would be something that I would be interested in in the first place. I actually like being alone. I have decided that is how I want to live. I have a dog named Winston. I am still the same to Winston, no matter what, and there is comfort in that. Winston doesn't watch the news."
After saying that "personal lives" should be "behind the barrier" he can only follow-up the marriage question with an answer that is entirely personal. Enjoy your lonely life, Jeff.
Related
AmericaBlog responds