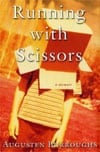 The hilarious author Augusten Burroughs, his publisher St. Martin's Press, his book editor, and his literary agent, are named in a lawsuit filed by the family portrayed in his best-selling 2002 memoir Running with Scissors
.
The Turcotte family alleges that events surrounding the Finch family, their fictional representations in the book, were sensationalized in order to better market it. The Turcottes claim that Burroughs has publicly identified them as the Finches. In Burroughs' memoir, he is sent to live with the Finches (Dr. Finch is his mother's therapist) when his unstable mother is no longer able to care for him.
At a sweltering, sold-out reading at New York's Cooper Union which I attended last month, Burroughs told the crowd that he was living again in the small Massachusetts town where the book is set and intimated that the family in the book was unhappy with their portrayal and that he was often hesitant when he went out for errands, afraid that he might run into them.