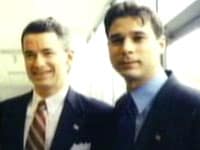 Publisher Judith Regan is reportedly in the final stages of a deal with former New Jersey Governor Jim McGreevey to tell all about the sex scandal that caused his resignation nearly a year ago.
On Monday, the Associated Press reported that the governor has been keeping his mouth shut ("no tell-all book, no candid prime-time interviews, no public appearances") about his alleged affair with homeland security aide Golan Cipel, to whom McGreevey gave a $110,000 job. Cipel had allegedly demanded $5 million to keep quiet about the whole thing.
McGreevey's life has also changed drastically since he left the Governor's mansion: "Separated from the wife he betrayed, McGreevey lives modestly, in a one-bedroom apartment, one town away from his old stomping ground in Woodbridge. He takes his 3-year-old daughter out for bacon and eggs after Sunday church services, walks to a corner newsstand for coffee and newspapers and stops to chat when passers-by recognize him."
McGreevey rocked the nation in August 2004 when he declared "My truth is that I am a gay American". He may now get a mid-six figure payment for the story behind those words.