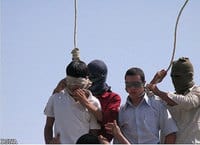 More information is coming to light on the hanging of two Iranian boys in July. Iranian authorities have said that the youths were hanged for raping a younger boy, however, no solid evidence has been provided that any kind of sexual assault ever occurred. Gay City News reports that gays inside Iran are affirming that the rape charges were "trumped up." The youths were held in prison for 14 months before their execution and received 228 lashes each. The length of their prison terms would mean that both were minors at the time of their so-called crime.
Afdhere Jama, editor for a gay Muslim e-zine inside Iran, claims no rape took place and the boys hanged had been in a relationship: "The first day I found out, I called my Iranian contacts from Huriyah. All agreed on the fact that these boys were murdered for being queer. One of my contacts who has been to gay parties in Mashad swears the boys were long-term lovers, and another source told me one of the boys' family members outed the couple."
The editors of an underground Iranian publication for gays afraid to give their names to the paper agree with Jama that the executed teens were lovers while other sources in touch with Gay City News suggest that the executions may have been "a legally-disguised 'honor killing,' which in Islamic cultures is frequently inflicted by families on their own kin who have engaged in same-sex relations."
Doug Ireland's report offers an insightful background on the history of homosexual acceptance and repression in Iran and is definitely worth a read.
In related news, groups in Dublin, San Francisco, London, Paris, and Montpelier staged protests yesterday against the execution of the Iranian youths.
Iranian Sources Question Rape Charges in Teen Executions [gay city news]
Five-City Protest Against Iran Executions of Gay Teens [persian journal]
Related
Report: Gay Youths Hanged in Iran [tr]