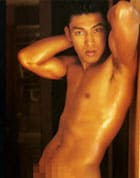 Thailand is cracking down on adult gay porn.
A champion Thai boxer, Sirimongkol Singwancha, was sentenced to a six month jail term because full frontal photographs of the athlete were published in the Thai magazine Heat.
The sentence was later suspended on condition of "good behavior" for two years. Thailand's crime suppression division also recently "blacklisted" (not sure what that means) 20 adult Thai websites which offered photos and pornographic material for sale.
In other news, New York porn titan/blogger Michael Lucas is threatening to sue Owen Hawk's Dark Alley Media, the New York Post reports, after one of his execs jumped ship to the other company. Lucas allegedly claims that the exec, James Ianantouni, is unfairly tapping Lucas Entertainment's customer base and sales contacts. There has been no statement yet on Lucas' blog regarding the allegations.