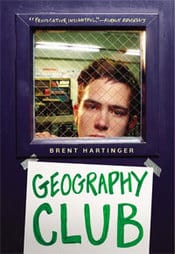 Brent Hartinger's novel Geography Club
, which chronicles the relationship of a lonely gay student and an online chat buddy who turns out to be an athlete at his high school, has been pulled from a Tacoma, Washington area school district's library shelves.
The superintendent who made the decision explained that it was not the book's gay content that alarmed her, but the fact that the internet was used as a way for people to meet. Said the super: "We want to send a strong consistent message to all our students that meeting individuals via the Internet is extremely high-risk behavior. To the extent that this book might contradict that message, I have determined it should not be in our libraries, in spite of other positive aspects."
Geography Club
was lauded by other parents in the district, however, who were confused by the message that the school district was now sending. Said parent Connie Clausen, "It is about gay students. However, the most important part of the book is that it's about bullying, outcasts, about tolerance. This is a really good book for any student to read."
The main characters in Hartinger's novel end up creating the "Geography Club" as a front for a place they can meet free from intolerance and discrimination. The question in my mind is, would the superintendent still want this book off the shelves if it were a group of heterosexual students using the internet to form a club of their own?