John Polly checks out Alan Bennett's The History Boys, which recently opened on Broadway. Bennett's play won the Critic's Circle award for best play in Britain last year, just months after the 70-year-old playwright came out publicly.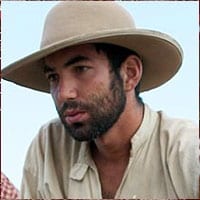 The makers of PBS' Colonial House are out with a new "back-in-time" adventure called Texas Ranch House in which ordinary people are plucked from their daily lives and forced to take jobs at a ranch in Texas circa 1867: "Transplanted into the actual living and working conditions of the era, outfitted with period tools, technology and clothing, a brave family and a diverse group of cowboys-at-heart discover how the myth of the American West meshes with reality — and what the saddle-sore, rope-burned, and sun-blistered ranch life was really like." Are there any Jack Twists among them? Wait and see. The show airs May 1-4. (via reality blurred)

Gay Pride organizers in Moscow say they will hold the event despite the government's refusal to approve it. On May 27th, they will take to the streets.

Star and Garter Public House set ablaze in Bolton, UK. Landlady: "We're a gay-friendly pub, so it could have been a homophobic attack. At this stage, we just don't know."

Calvin Klein finalizes divorce to wife Kelly.

Gay Games sponsorship takes center stage at Kraft shareholders meeting and a proposal to drop the company's association with the Games is soundly defeated by the shareholders: "Dr. Meyer's proposal, rejected by 99% of stockholders, rested largely on the supposition that numerous studies have linked homosexual activity to sexually transmitted diseases that cause sickness and premature death, especially from AIDS, and that Kraft's support of the games could make it legally liable in the event that a young attendee decides to "experiment with homosexual encounters and later develops a serious, even fatal, illness."


Gay Games medal designs unveiled. Gay games Board member Greg Mcnitt: "We honor top achievement at the Gay Games. However, the Gay Games was founded on the principles of participation, inclusion and personal best. Medals are also provided to every participant in our 30 sports and 4 core cultural events. In this way we honor all participants who will strive to do their personal best, even if they do not achieve one of the top spots in their event." The participant medals are a dark pewter color and the other traditional medals reportedly have diamond embellishments.