Looks like the Foley scandal may be starting to uncover the skeletons buried in the Republican backyard.
Independent Gubernatorial Candidate Max Linn took the bold step of calling out Florida Attorney General Charlie Crist on his sexuality during a radio interview on National Coming Out Day, according to reports.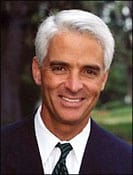 Said Linn, who is running against Crist for Governor in the November election: "Charlie come out, come out from wherever you are." Linn reportedly said that "it is common knowledge in Tallahassee that Crist is gay" and it is time that his opponent acknowledged it.
Crist's office had no comment, and neither did the Democratic candidate, US. Rep Jim Davis.
It's not the first time Crist has been questioned about his sexuality. He was asked in an August radio interview, and replied, "The point is, I'm not. There's the answer. How do you like it? Not that there's anything wrong with that, as they say on Seinfeld. But I just happen not to be."
We also reported on a call Crist made to a radio interview back in January 2005 when he was asked "Are you a homo?" At that time, Crist replied, "No, man. No. I love women. I mean, they're wonderful."
Opponent Outs Florida GOP Governor Candidate [tr]
You may have missed…
Woman Lover Charlie Crist is Not Gay [tr]