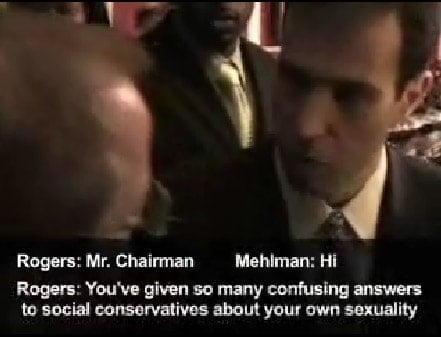 RNC Chair Ken Mehlman was confronted at a fundraiser last week at a residence on Capitol Hill about the various answers he has given to media inquiries about his sexuality. Said Mehlman to blogger Mike Rogers before turning away: "I don't think I've given different answers."
Yet the RNC's confusion about gays extends further than questions about what goes on in Ken Mehlman's bedroom.
Via AmericaBlog comes this bit:
The RNC has been running an attack ad in Tennessee against Rep. Harold Ford (D) which slams Ford for taking money from porn movie producers. Unfortunately for Mehlman, notes Josh Marshall of Talking Points Memo, the RNC "is a regular recipient of political contributions from Nicholas T. Boyias, the owner and CEO of Marina Pacific Distributors, one of the largest producers and distributors of gay porn in the United States."
As TPM notes, recent releases have included Fire in the Hole, Flesh and Boners, and a Velvet Mafia series (links NSFW).
Interesting. However, I'm not sure that anyone has made this connection yet:
Of interest to some might be the fact that Active Duty (link NSFW) is one of the production companies distributed by Marina Pacific. In January, seven soldiers from the 82nd Airborne were revealed to have been involved in porn movies produced by Active Duty. Four of the soldiers involved received non-judicial punishments while three others were court martialed, served prison time for their misconduct, and were discharged from the military.
So, the U.S. military discharged soldiers for participating in a gay porn flick while at the same time the RNC took political contributions from the film's distributor!
I'm sure the discharged paratroopers would be interested to know that portions of the profits from their films were headed to the coffers of the Republican Party.
You may have missed…
RNC Chairman Ken Mehlman: I'm Not Gay
The Military's Ugly Double Standard on Gay Porn [tr]
Blogger: Idaho Senator Larry Craig Had Gay Encounters [tr]
GQ on Outing Gay Republicans [tr]
82nd Airborne Gay Porn "Ringleader" Faces Court [tr]