Brokeback begone: Bill introduced in Wyoming that would invalidate same-sex marriages performed in other states.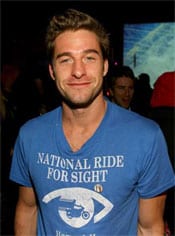 Scott Speedman tugs the heartstrings at Sundance.

Politics played a role in the government's response to Hurrricane Katrina, according to former FEMA head Michael Brown: "Political storm clouds gathered again over the federal government's response to Hurricane Katrina as former Federal Emergency Management Agency Director Michael Brown said party politics influenced decisions on whether to take federal control of Louisiana and other areas affected by the hurricane. Louisiana Gov. Kathleen Blanco said the partisanship Brown described was "disgusting," while a White House spokeswoman said Brown was making "false statements." Brown told a group of graduate students Friday that some in the White House had suggested the federal government should take charge in Louisiana because Blanco was a Democrat, while leaving Mississippi Gov. Haley Barbour, a Republican, in control in his state." (via crooks & liars)

A great story from the Miami Herald about the importance of gay-straight alliances in high schools: "Just knowing that there are other kids like me, or who care about the same issue that I do, it makes me feel great. Less alone. That life is not hopeless."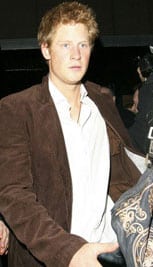 Prince Harry angers his training squad by skipping a 100-minute march for a night of partying at the Cuckoo Club.

Tony Blair backs his Communities secretary Ruth Kelly as she attempts to find a loophole in new gay rights laws that would allow Catholic adoption agencies to turn away gay couples: "A spokeswoman for Ms Kelly, who has overall responsibility for equality, said the minister wanted to "protect the pool of prospective parents" and would be trying to find a "pragmatic way forward" this week. The Catholic church has threatened to close its seven adoption agencies rather than comply with laws that forbid them to discriminate against gay couples."

REPORT: FOX has approached the Beckhams to do an Osbornes-style reality show.

Federal judge rules that city of Philadelphia had the right to arrest members of Repent America at that city's PrideFest in 2004 after the group used a bullhorn to spew Biblical verse during stage event. Judge: "There is no constitutional right to drown out the speech of another person."

Vice President Dick Cheney rejected a conciliatory offer to go into talks with Iran in the spring of 2003.