Possible hate crime in Boulder, Colorado. A woman is assaulted after she tells two men she is gay and not interested in their sexual advances. The woman had offered the men a place to stay for the night. According to 9News in Boulder, "The victim is a student at Naropa University, a fine arts school that advocates peace and kindness."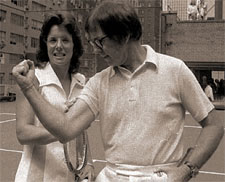 It's about time: Wimbledon to award women the same prize money as men.

University of Georgia hockey goalie Joey Fisher comes out of the closet: "His decision was not without trepidation. He had heard homophobic comments in the locker room as his teammates flaunted their machismo. But Fisher clung to a story he had heard years before of former high school football captain Corey Johnson. 'I kept coming up with excuses to not come out. In reality, people are just going to be a lot better about it than anyone really expects,' Fisher said. He decided that he would post on his Facebook profile that he was gay. He figured that a couple people might see it and that it would help him ease out of the closet. In that assumption, he underestimated the power of the Internet."

Agreement: Apple and Cisco to share iPhone name.

Bobby Trendy weighs in on the debate over who is the father of Anna Nicole's baby: "Hopefully, it's Larry Birkhead's, he looks better than Howard Stern. I think Larry is more attractive. Anna always wanted a blonde hair, blue eyed baby."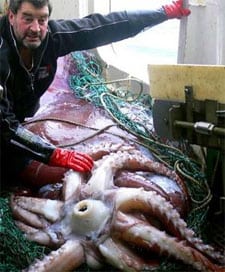 Fishermen haul in world's largest squid: "Experts are yet to examine the whopper, but if original estimates are correct it is about 10 metres long and is 150kg heavier than the next biggest specimen ever found. The creature is a colossal squid (scientific name Mesonychoteuthis hamiltoni) – a very large species that's shorter but much heavier than the better known giant squid. The squid was caught after it was hauled to the surface munching on one of its favourite foods – a Patagonian toothfish the fishermen had hooked on a longline."

New Jersey Supreme Court orders schools to protect students from anti-gay harassment. Chief Justice: "Students in the classroom are entitled to no less protection from the unlawful discrimination and harassment than their adult counterparts in the workplace."

Straight man becomes shooting target after gay man suspects he and his boyfriend are more than just friends.

AfterElton hits up jazz musician Dave Koz for a chat about his new CD At the Movies. Koz uses snippets of dialogue from the film on the CD: "I always thought that this album should start by placing the listener in a movie theater. So the idea was: Let's start with 'Over the Rainbow'; let's use a little snippet of Judy Garland from The Wizard of Oz. Then it will start with that very old-sounding, crackly, mono sound to this beautiful open image with the orchestra coming in.Well, that was an idea; little did I know that we could actually make it a reality, and it was much to my surprise that we were able to get the rights for a fraction of what I thought it was going to cost to use that."

David Beckham apparently enjoys humping his teammates.

World's worst nightmare: growing up gay in a household that revolves around fundamentalist religion.