Brit tabloid The Sun reports on what was behind Robbie Williams' entrance into rehab, although I have a hard time believing that every day "he gets through an incredible 36 super-strength double espresso coffees, 60 Silk Cut cigarettes and around 20 cans of energy drink Red Bull." Is that humanly possible?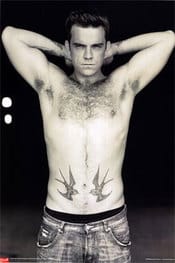 According to the tabloid: "The singer finds it impossible to get to sleep until 4 or 5am due to insomnia and is on sleeping pills. He is hooked on the powerful and controversial anti-depressant Seroxat, which has been linked to suicidal tendencies in teenagers. He suffered agonies as Take That's reunion tour became one of the biggest pop events of 2006. Their comeback single Patience went straight in at No1 and stayed there for six weeks. Their new album Beautiful World also went straight to No1 and has sold 1.5 million copies. By contrast, Robbie's first single from his new album Rudebox went in at a disappointing No 4. And the album stayed at No1 for only a week. Take That's Patience is expected to win best single at the Brit Awards tonight. It will be the first time in several years that Robbie has not been in the running in best male or best album categories."
And of course, Anna Nicole Smith is involved somehow:
"The multi-millionaire singer was also tortured by the death of model Anna Nicole Smith last week and feared he too could end up dead if he did not get help."
This should end our former boyband news for the day. We wish Robbie best of luck in his recovery.
You may have missed…
Robbie Williams Enters Rehab for Prescription Drug Addiction [tr]