[[SPOILER ALERT]]
Last week's premiere of Top Design also featured its first feud, as two contestants forced to work as a team struggled with conflicting personalities. Contestant John Gray, the louder of the two, had a series of emotional outbursts that he reveals on tonight's show were the product of medication he's taking because he's HIV-positive (imho a few of the outbursts toward his annoying partner were entirely justified on their own).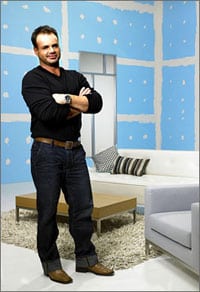 Says Gray to the rest of the cast: "I just want everyone to know I'm HIV-positive. I'm not making excuses or apologies." The paper notes that soon after his explanation, attitudes from the other contestants change considerably.
As USA Today notes, it's "a rare moment for reality TV" to have a cast member disclose that he is HIV-positive. They compare Gray's admission to that of Pedro Zamora from '94's The Real World when attitudes toward AIDS were tainted by fear and ignorance. Still are today, in some parts.
According to the paper, "Gray says his anger was fueled by testosterone taken to counteract lower levels induced by HIV. His dosage was boosted 400% just before the show started because he wasn't sure how long he'd be away from home. 'After the first episode, I asked myself why I was so angry, and it was a light-bulb moment…I don't want to be the new face for HIV or be on the cover of Out. I felt the cast was entitled to an explanation for my behavior."
For those who haven't seen the show yet, I've provided links to a couple clips below. I must also disclose that they're one of this website's advertisers.
Clip One [top design]
Clip Two [top design]
'Top' designer tells housemates he has HIV [usa today]