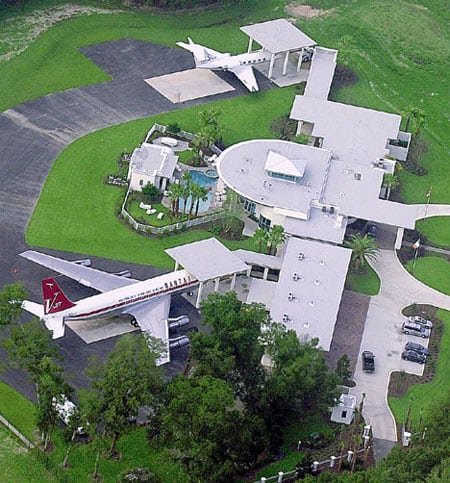 As five Travolta-owned planes sat on runways at various airports around the world, including the private one at his home (above), John Travolta expounded on the importance of helping the environment shortly after smoking down the red carpet at the Wild Hogs premiere on a Harley Davidson.
Said Travolta: "It [global warming] is a very valid issue. I'm wondering if we need to think about other planets and dome cities. Everyone can do their bit. But I don't know if it's not too late already. We have to think about alternative methods of fuel. I'm probably not the best candidate to ask about global warming because I fly jets. I use them as a business tool though, as others do. I think it's part of this industry – otherwise I couldn't be here doing this and I wouldn't be here now."
For Travolta, there are convenient ways to explain everything, even if they don't make very much sense.
According to the Daily Mail: "Travolta's five private planes – a customised £2million Boeing 707, three Gulfstream jets and a Lear jet – are kept at the bottom of his garden in the US next to a private runway…Clocking up at least 30,000 flying miles in the past 12 months means he has produced an estimated 800 tons of carbon emissions – nearly 100 times the average Briton's tally."
You may have missed…
The Guys in Wild Hogs are So Not Gay [tr]