The Iowa state Senate has approved a bill prohibiting discrimination against gays and lesbians: "Backers of the bill, mostly Democrats, pushed it to passage on a 32-17 vote. They portrayed the legislation as a needed strike against discrimination that would also make the state more economically attractive. The bill, Senate File 427, would add the words 'sexual orientation' and 'gender identity"' to the Iowa's Civil Rights Act, which currently bars discrimination based on age, race, creed, color, sex, national origin, religion and disability. The act specifically targets discrimination tied to employment, housing, public accommodations, education and credit." The bill has been sent to the House.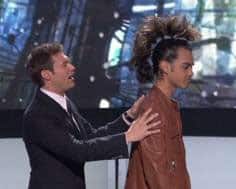 Sanjaya and the ponyhawk rule American Idol, plus: "Gwen Stefani can't mentor worth a damn! What the hell kind of advice was she giving…yeah no advice! She just stood there and smiled and then told us what she really thought of your no-talent asses behind their backs!"

Radar lines up out gay athletes John Amaechi, Billy Bean, and Esera Tuaolo for a roundtable on life in the locker room. Bean: "I was actually once asked if I was a top or a bottom on a radio show, and that was the first time that I think I was embarrassed in public. When you become public, when you "come out," when you invite the public into your private life, there is a sense that you deserve to be asked that question."

No, nothing to hide: Alberto Gonzalez directly contradicts his own statements about the firing of U.S. attorneys.

Wingnut and Earth-hating Senator James Inhofe vows to stop Al Gore's global warming concert from taking place on Capitol grounds.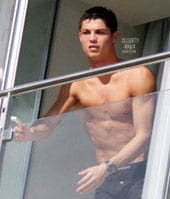 Cristiano Ronaldo: balcony underwear flasher.

Dina Matos McGreevey prepares to speak and a once-married gay man has a few things to say about it: "When a gay man finally decides to come out to his wife, it's a moment he's prepared for, in some cases over the course of his entire life, but in all cases, he's worked up to it, he's had time to prepare for this new reality. In most cases, he's chosen the time and the place, he's rehearsed the scene many times in his head. Furthermore, he sees it as the beginning of a new life, a mentally healthier life (or so he hopes,) the pursuit of wholeness as a human being. He goes into it prepared and on his own terms."

John McCain calls media a bunch of "jerks".

Van Hansis, who recently was nominated for a daytime Emmy for his role as a gay teen on As the World Turns, is about to get a boyfriend (on the show). (Show clips…)

Burger King set to make "historic advance" in animal welfare: "…the world's second-largest hamburger chain, said Tuesday that it would begin buying eggs and pork from suppliers that did not confine their animals in cages and crates. The company said that it would also favor suppliers of chickens that use gas, or "controlled-atmospheric stunning," rather than electric shocks, to knock birds unconscious before slaughter. It is considered a more humane method, though only a few slaughterhouses use it."