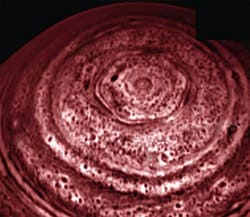 Earlier this month I posted some dramatic shots taken by the $3.3-billion U.S. Cassini probe, funded by NASA and the European and Italian space agencies. It has been in an inclined orbit around the ringed planet for the past two months.
The most recent photographs reveal a phenomenon scientists have been waiting 30 years to see: a well-defined hexagon around the planet's north pole said to be "an unusually strong pole-encircling planetary wave that extends deep into the atmosphere".
Scientists aren't sure exactly why the six-sided shape exists, but I find it entirely appropriate that the sixth planet from the sun be blessed with a mark that tells us where it comes in the planetary order.
And for those who like their space porn video-style:
You may have missed…
Out of this World: Cassini Sends Postcards from Saturn [tr]
NASA Releases Spectacular Lunar Transit Images [tr]
Comet McNaught Makes an Appearance [tr]
Space Porn: Atlantis Moments after Intercourse [tr]