The religious nutjobs don't want gays to adopt or care for foster children. Well, somebody oughta be monitoring the religious nutjobs a little bit better. Warning: GRAPHIC.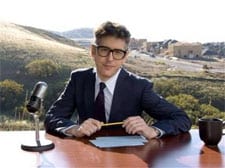 This American Life is coming to Showtime. Ira Glass: "We really want to make something that would be different from anything else on television. When you turn on the radio and hear our show, in five seconds you can tell it's our show. … And we wanted to do the same thing for the television show."

The 18-day gap: "Researchers have discovered an 18-day gap in the 3,000 documents on the U.S. Attorney purge released this week by the Justice Department. The gap extends from mid-November to early December, 'which was a critical period as the White House and Justice Department reviewed, then approved, which U.S. attorneys would be fired while also developing a political and communications strategy for countering any fallout from the firings.'"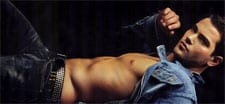 Jesse Metcalfe enters rehab for "alcohol issues".

The nation's first affordable housing development for HIV-infected, homeless and low-income gay, lesbian and transgender senior citizens will open its doors in Hollywood today: "The 104-unit Triangle Square development features covered parking, a pool, an open courtyard and an activity center. The nearly $21 million project was built by developer McCormack Baron Salazar and the nonprofit Gay and Lesbian Elder Housing."

Angelina Jolie heads home with new Vietnamese son, Pax.

Former Arizona governor tells Anderson Cooper he saw UFO. (via virtual matter)

Identity of American Idol crying girl revealed.

Barbara Boxer slaps down James Inhofe at Gore global warming hearings: "Would you agree to let the Vice President answer your questions?…You're not making the rules. You used to when you did this. Elections have consequences. So I make the rules."

Sweden takes a step toward allowing gay marriages: "The Swedish proposal needs parliamentary approval but is expected to pass because gay marriage has widespread support in the Scandinavian country."

The fight goes on: Author Terry McMillan suing her gay former husband Jonathan Plummer for $40 million. Lawsuit: "The defendants conspired and formed a plan to threaten to humiliate and embarrass Terry McMillan, and violate her privacy and place her in harm's way, and threatened to damage her professional and personal standing in an attempt to extort monies from her."

FOX News needs to come out of the closet.