Tom Cavanagh, who plays a gay ex-Toronto Maple Leaf in the upcoming film Breakfast with Scot is just the latest actor to be asked about what it's like to kiss a man onscreen in this interview on NBC sports: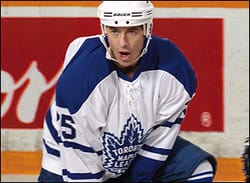 JW: Let's play "$20,000 Pyramid", the bonus round. I'm giving the clues. Here goes. 'Julie Bowen, Kelly Ripa, Rena Sofer, Bridget Moynahan, Ben Shenkman…'
TC: Um, 'People Who Are Better-Looking Than Me?'
JW: I'm sorry. We were looking for 'People I've Kissed Onscreen.'
TC: Here's the problem with that. You ever hear Conan O'Brien talk about the problem with having gone to Harvard? It means that you're sentenced to a lifetime of, whenever you do anything halfway stupid, having to hear, "And you went to Harvard?" Likewise, when you get to kiss these beautiful women, for the rest of your life you get no sympathy. "Oh, your leg was severed at the knee? At least you got to kiss Bridget Moynahan."
JW: You even feel that way about Ben Shenkman (whom Tom kisses in the not-yet released "Breakfast With Scot")?
TC: Let me quote Keats here: "Beauty is truth, and truth is beauty." And when you're as good-looking as Ben Shenkman, it doesn't matter if you're a man or a woman. Although, I'm not sure if Ben's wife wants to hear me say that.
Given the media's fascination with how male actors can possibly deal with having to kiss another man onscreen, I've got a feeling Cavanagh's going to have a lot more questions like this coming his way. And Breakfast, about a gay couple raising a gay kid, has already begun to inspire controversy.
You may have missed…
Professional Hockey, Gays, and the "Ex-Gays" Who Hate Them [tr]
NHL Endorses Film about Gay Pro Hockey Player [tr]