The body of Ryan Keith Skipper, a 25-year-old man from Winter Haven, Florida, was discovered on a rural road early Wednesday morning. Skipper had been stabbed more than 20 times, because he had reportedly made an advance toward one of his assailants, a man he had picked up hitchhiking according to the Associated Press: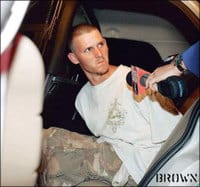 "Skipper was driving around Wahneta on Tuesday and offered [Joseph] Bearden (right) a ride around midnight, the statement said. The two went back to Skipper's house, where they smoked marijuana and discussed using Skipper's computer to copy checks, the report said.

The two left Skipper's house and went to another home where they met [William David] Brown [Jr.] (left) and they all left in Skipper's car, officials said. Once at the remote location, Brown and Bearden allegedly attacked Skipper in his own vehicle, stabbing him and leaving him along the roadside, Wood said.

The suspects allegedly attempted to clean the bloody vehicle and later drove Skipper's car around and bragged to friends, Wood said.

Skipper's car was later found abandoned on a dock near Lake Pansy in Winter Haven and Brown's fingerprints were found inside, she said."
According to other reports, Skipper's friends say he was popular and did not go out of his way to cruise hitchhikers, which is what authorities allege, and Skipper's roommate says that he did not own a laptop and stayed away from drugs since a marijuana possession arrest in 1999 and 2001.
The attackers also attempted to set the car on fire once they abandoned it, but did not succeed.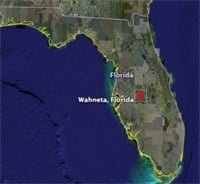 William Brown's cousin, Ray Allen Brown, was briefly held in connection with the murder, but was released and will likely not be charged. Polk County Sheriff Grady Judd said a number of witnesses came forward whom Brown and Bearden had told about the murder. It was through one of those witnesses that police were able to determine that Skipper was killed because he was gay. Said Judd: "William Brown told (a witness) that Ryan Skipper was messing with him, that Ryan Skipper was a homosexual, so (he) killed him."
Authorities are treating the incident as a hate crime. Bearden and Brown have been charged with first-degree murder and armed robbery and, if convicted, could face the death penalty. They are being held without bail and will be arraigned on April 17th.
2 Men Charged in Slaying Ordered Held Without Bail [the ledger]
Authorities: Man Was Killed Because He Was Gay [news4jax]
Men Charged in Wahneta Killing [the ledger]