Anthony Hergesheimer, a 15-year-old openly gay student in Pueblo, Colorado, was pursued by a group of six fellow students in a car after leaving school last Thursday. His pursuers passed him four times on the street, taunting him with anti-gay slurs before one of them got out and threw an aerosol can at his head, fracturing his cheekbone and breaking his nose.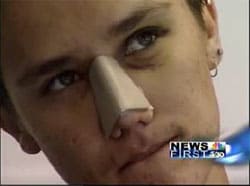 Said Hergesheimer: "They said things to me like, 'You, fag, this and you, fag, that,' and then they walked off."
The taunting had reportedly started earlier in the day when the group threw a wet tampon at Hergesheimer.
Heregesheimer's mother, Teresa Ornelas, said that her son had also received threatening emails. Said Ornelas: "I'm very upset. Yeah, my son is gay. But that shouldn't matter. He should be proud of who he is."
She and her husband believe authorities are "dragging their feet" as well because it's a gay-related incident. Added Ornelas: "I think it's taking too long. I don't understand why there have been no arrests. The boys have admitted to assaulting my son. My son has identified them all. Everyone knows about it, and they're still walking around free." The Deputy Chief of police disputes that, saying the incident is getting more attention because of the hate crime element.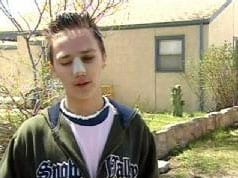 Hergesheimer is reportedly undergoing surgery today to repair his facial injuries, and the six teens who attacked him have been temporarily suspended while the school decides whether or not to expel them.
As far as I'm concerned, that decision is a no-brainer. Expel them, at the very least.
Hergesheimer remained strong following the attack: "You shouldn't be afraid to be who you are. Of course there will be people who won't agree with you. But you shouldn't be scared to be who you are."
Video [koaa]
Gay Teen Attacked By Fellow High School Students [the denver channel]
Gay Student In Pueblo Is Possible Hate Crime Victim [krdo]