Anderson Cooper isn't just feeling the heat from the gay community about his decision to keep his sexuality off the table for discussion. If Out magazine's "Glass Closet" cover story wasn't enough for the CNN anchor, Michael Jensen of AfterElton makes note of a New York magazine profile this week on MSNBC commentator Keith Olbermann. Olbermann, citing a Men's Journal article in which Anderson refuses to discuss his sexuality, calls foul on Anderson's non-disclosure.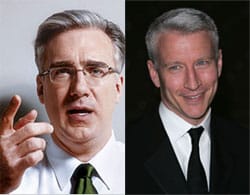 Olbermann: "Don't tell me you don't want to talk about personal life when you wrote a book about your father's death and your brother's death. You can't move this big mass of personal stuff out for public display, then people ask questions and you say, 'Oh, no, I didn't say there was going to be any questions.' It's the same thing as the Bush administration saying, 'We're going to war, but you really aren't allowed to know why'…Don't tell me you can't talk about your personal life and then, when they send you overseas and you do a report that consists of your voice-over and pictures of you in a custom-made, blue-to-match-your-eyes bulletproof vest, looking somberly at these scenes of human devastation—like a tourist—and that's your report. Your shtick is your personal life."
New York's writer called Olbermann's amplified attack on Anderson "too big a gun for too small a target" but the topic seems to be more on the wind these days than ever. Yesterday, Radar Online published a timeline of Coop's non-statements on the subject, saying "references to CNN anchor Anderson Cooper's homosexuality has reached a level of saturation that would make even Clay Aiken squeal: 'Come out, already!'"
Cooper, whose CNN contract has reportedly been renewed to the tune of $50 million, has thus far had no comment.
MSNBC's Keith Olbermann takes on Anderson Cooper [after elton]
Limbaugh for Lefties [new york magazine]
Anderson Cooper's Gay Timeline [radar online]
Out Spots Anderson Cooper in the Glass Closet [tr]