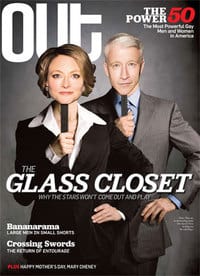 Anderson Cooper sits at #2 among a list of America's most influential gay men and women in Out magazine's "Power 50". The list, in their May issue, is based on cultural resonance, political influence, media profile, and wealth. Jodie Foster sits at #43.
A couple of interesting choices, given the fact that neither have, to my knowledge, publicly come out.
Thus, Cooper and Foster are also given the cover treatment and the up and down in a Michael Musto cover story which looks at celebrities and public figures who live in the "glass closet".
Says Musto: "It's true that stars are free to put up whatever walls they want in order to maintain boundaries with the public. But even at their most controlling, straight stars never seem to leave out the fact that they're straight in interviews. Whenever a subject tells me, 'I won't discuss who I'm dating' or 'I resent labels,' I generally know not so much that they're passionate about privacy but that they're gay gay, gay."
UPDATE: You can read who else made Out's "Power 50" after the jump, and read the full "Glass Closet" article online at Out.
1. David Geffen
2. Anderson Cooper
3. Ellen DeGeneres
4. Tim Gill
5. Barney Frank
6. Rosie O'Donnell
7. The New York Times Gay Mafia: Richard Berke, Ben Brantley, Frank Bruni, Stuart Elliott, Adam Nagourney, Stefano Tonchi, and Eric Wilson
8. Marc Jacobs
9. Andrew Tobias
10. Brian Graden
11. Jann Wenner
12. Andrew Sullivan
13. Suze Orman
14. Joe Solmonese
15. Fred Hochberg
16. Christine Quinn
17. Perez Hilton
18. Scott Rudin
19. John Aravosis
20. Sheila Kuehl
21. James B. Stewart
22. Nick Denton
23. Tom Ford
24. Nate Berkus
25. Adam Moss
26. Jim Nelson
27. Lorri L. Jean
28. Adam Rose
29. Annie Leibovitz
30. Simon Halls and Stephen Huvane
31. Bryan Lourd
32. Bryan Singer
33. Jonathan Burnham
34. Brian Swardstrom
35. Robert Greenblatt
36. Chi Chi LaRue
37. Dan Mathews
38. Neil Meron and Craig Zadan
39. Ingrid Sischy
40. Marc Cherry
41. Carolyn Strauss
42. Irshad Manji
43. Jodie Foster
44. Christine Vachon
45. André Leon Talley
46. Hilary Rosen
47. Matthew Marks
48. Benny Medina
49. Mitchell Gold
50. David Kuhn