Marc Jacobs President Robert Duffy is behind the recent opening of a Marc by Marc Jacobs boutique in Provincetown, Massachusetts, a town which has historically shunned chain stores, restaurant franchises, and brand name boutiques in favor of mom-and-mom t-shirt joints, salt water taffy shops, and art and antiques dealers.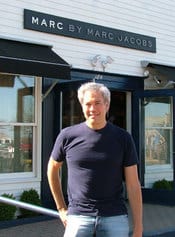 The opening of the shop has, like most things in Ptown, divided opinion on whether it will be a good thing or a bad thing for the seasonal village. Some think it may be good for business while others worry about over-commercialization ruining the town's artistic vibe.
The normally under-the-radar Duffy, who recently donated $340,000 to Provincetown's Art Association and Museum, comments to the Provincetown Banner: "We are a brand. I don't know if it's the right thing to do or the wrong thing to do. If it opens up the floodgates for stores to be open year-round, it's a good thing. I don't come here to have a lot of attention focused on me. I'm used to having attention focused on me in New York and Paris. But you don't like to see your name on a wall where you come to get away. This town has been my heart and soul. I have a cemetery plot here. I'm just so proud of the heritage this town has."
There's no doubt Provincetown is changing, but if it's the art-loving philanthropists that are coming its way, it's hard to see how anyone can really complain.
For more on Provincetown, click here!
Robert Duffy, couture company exec, steps from shadows [provincetown banner]