Massachusetts gay marriage supporters "scramble to change minds on Beacon Hill" as vote on proposed amendment banning gay marriage approaches: "They are inviting skeptical lawmakers into the homes of recently married gay couples, holding ice cream socials, distributing pro-gay marriage DVDs and even asking the state's congressional delegation to appeal directly to legislators who may be on the fence."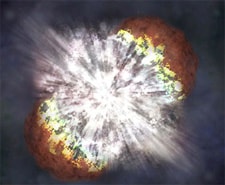 Scientists spot massive supernova 240 million light-years from Earth: "Of all the exploding stars ever observed, this was the king. We were astonished to see how bright it got, and how long it lasted." 50 billion times brighter than the sun.

Experimental and horror film director Curtis Harrington has died at 78.

Extreme Home Makeover's Ty Pennington in drunk driving arrest.

Elizabeth Hasselbeck, Peyton Manning among guests at White House state dinner for Queen Elizabeth. (list)

War in Iraq slowing National Guard's emergency response in Kansas following massive Greensburg tornado.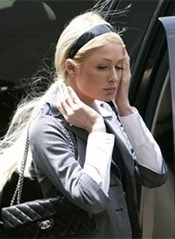 Paris Hilton plans to present a petition to California Governor Arnold Schwarzenegger asking for a pardon following a judge's order that she spend 45 days incarcerated for driving violations. The petition reads, in part: "We, the American public who support Paris, are shocked, dismayed and appalled by how Paris has been the person to be used as an example that Drunk Driving is wrong. We do not support drunk driving or DUI charges. Paris should have been sober. But she shouldn't go to jail, either. She provides hope for young people all over the U.S. and the world. She provides beauty and excitement to (most of) our otherwise mundane lives." Where to begin?

Austin, Texas gets a gay community center.

Brad Pitt to play He-Man in film adaptation?

16-year-old daughter of Annie Lennox trashes home while mum is away: 'At first it was just lamps being knocked over and drinks being spilled. But as things got worse people were urinating on the carpet in the corner of the living room, then there was graffiti being scrawled on and even etched into the walls, pictures were being taken down and damaged, CDs went missing, books were taken off bookshelves and pages were inexplicably ripped out. Lola's friends were totally outnumbered and the gate-crashers would not leave. The front door was locked shut to make sure no one else could get in, but the ones outside actually rammed it in, breaking its hinges. There was a fight in the garden, someone had deliberately filled the sink with detergent and let it run over so it flood the place. There was vomit on the stairs, and cigarette burns on the carpets, cans and bottles strewn inside and out. The place was a like a bombsite." (via a socialite's life)