A gay couple in Brighton, England have been targeted in two separate attacks by a gang of men who stalk them in a vehicle and then jump out to attack and rob them while using homophobic slurs, police have reported: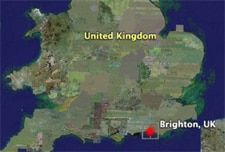 "Their latest attack left a 36-year-old Brighton man with such horrific swelling around his face that doctors have not yet been able to establish the full extent of his injuries. Detective Sergeant Mick Richards, of Sussex Police, said: 'This was a really vicious, unprovoked attack on two members of the gay community. It is very unusual and we are asking the gay community to be our eyes and ears. If they hear or see this car and they are subjected to any homophobic abuse then they should contact us immediately.'"
Police are concerned that the gang will continue their attacks and are appealing to the public for information.