Although Newark Schools superintendent Marion Bolden issued a press apology yesterday for censoring the photograph of a gay student's kiss in 230 of East Side High School's yearbooks, the reports that the student, Andre Jackson, has not yet heard from her personally: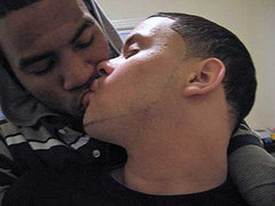 "Mr. Jackson, 18, said that nobody bothered to call him. 'I'm not looking to accept the apology,' he said in a telephone interview yesterday afternoon, a few minutes after he finished his graduation rehearsal. Any apology needed to be personal, and not contained in a press statement, he said. After all, the yearbook incident revived tensions with members of his family he has quarreled with because he is gay, he said. 'I have yet to speak to the board, the school, anyone,' he said."
Bolden's office reportedly told the NYT that a meeting was scheduled for today, but Jackson was unaware of it.
Steven Goldstein, the chairman and chief executive of Garden State Equality, expressed satisfaction that the school had agreed to redistribute the yearbooks to those who want "uncensored" versions, though Jackson rightly felt that everyone should get a new one. Said Jackson: "It's not about who wants one. It's about what happened."
Goldstein says he'll insist that the school district meet four times a year with Newark's gay and lesbian community.
Backstory…
NJ Superintendent Apologizes for Censoring Gay Kiss [tr]