Fort Lauderdale Mayor Jim Naugle held a press conference today, a few hours before UNITE Fort Lauderdale, the activist group behind the "Flush Naugle" campaign, were scheduled to hold a 4pm rally outside City Hall. (video)
The rally is in response to comments Naugle made surrounding the proposed installation of a $250,000 self-cleaning, robotic public toilet in the city. Naugle, who claims he uses the word "homosexual" rather than "gay" because gay people "are unhappy," has said that an added plus to having the toilets is that they would keep gay people from using the facilities for public sex.
The purpose of today's press conference, according to CBS4, was because Naugle wished to apologize "for not alerting the public earlier to the serious problem of gay men having sex in public bathrooms."
Said Naugle: "I'm the guy that gets the call from the Little League dads and the Soccer Moms that complain about that when they go to a public restroom they feel uncomfortable, they have to go inside to make sure this kind of activity isn't taking place. And I've received many emails from responsible members of the homosexual community that agree with me, that think this is a silly argument to have, and I'm asking the homosexual community to join with me, to cease this activity for the benefit of the children and the parents of the community."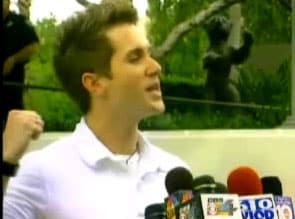 UNITE Fort Lauderdale released the following statement in response:
"Mayor Naugle once again showed his true colors at a press conference at City Hall. Flanked by the divisive Rev. O'neal Dozier, Naugle once again used stereotypes and hate instead of facts in his 'apology for not acting sooner on the problem of homosexual sex in public restrooms.' When asked why his assertions run counter to what the police department has repeatedly said, he simply pointed to an incident in South Beach and vague "'calls of complaints from concerned citizens' instead of answering questions with facts…When our city needs real action and leadership for the issues facing it, the mayor has chosen to latch on to an issue that he created in his own mind. Instead of answering to the concerns of the citizens of Fort Lauderdale , he has aligned himself with one of the most divisive religious leaders in Florida , Rev. Dozier. In fact, the mayor was apparently unable to find a church in Fort Lauderdale to support his bigoted statements, so he had to reach out to the Pompano minister. Dozier has made several comments over the last couple of years, including calling Islam a 'cult' and 'dangerous religion', and said that being gay is 'something so nasty and disgusting that it makes God want to vomit' and that HIV-AIDS was God's punishment. In fact, Gov. Bush and Gov. Crist have removed him off of advisory boards for his divisive and disparaging comments."
The group has called on Naugle to resign.
Mayor's 'Apology' Angers City's Gay Community [cbs4]
Previously
Flush Naugle: Gays in Fort Lauderdale Call on Mayor to Resign [tr]