As Fort Lauderdale Mayor Jim Naugle, and "religious leaders" from the newly-formed group healthypublicplaces.com held a news conference on the steps of City Hall to continue their hate-based fear-mongering regarding gay sex in public toilets, Michael Rajnor, a member of the Campaign to End AIDS, exploded in a vocal tirade aimed squarely at the mayor.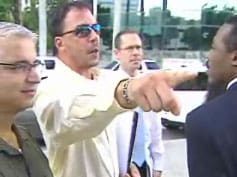 Shouted Rajnor: "He should be serving the people. He should be standing up for people. He should be fighting for funds for housing, for substance abuse, for vocational training. Who the hell do you people think you are?" (video)
In July, Naugle proposed installing a timed, $250,000 robotic toilet in Fort Lauderdale public restrooms. Naugle, who claims he uses the word "homosexuals" to describe gay men rather than "gay" because gay people "are unhappy," has said that an added plus to having the toilets is that they would keep gay people from using the facilities.
According to CBS4's Ted Scouten, "No one seems to be able to produce the stats proving all the gay sex in public. The mayor says there have been eight arrests over the past two years and the police department says there have been only two in three years."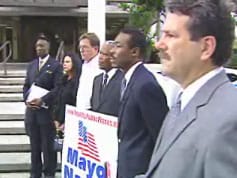 Today, Naugle stood with Rev. O'Neal Dozier, who said: "We want the homosexual community to know that we love them and that God loves them also. But God hates the act of homosexuality."
Said Rajnor: "To have African-American members stand there while this mayor has disregarded the Sistrunk community in funding and not made certain initiatives go forth to help the African-American community, they're hypocrites to use the Bible."
Healthypublicplaces.com is basically a coalition of "ex-gay" and Christian right-wing hate groups masquerading as a community health organization. Those involved include Americans for Truth, Christian Anti-Defamation Commission, Christian Interactive Network, Concerned Women for America, Coral Ridge Ministries, Faith2Action, Stephen Bennett Ministries and the Worldwide Christian Center. (Download their press release here – PDF)
Background…
Fort Lauderdale Gay Businesses Concerned About Naugle Effect [tr]
Hundreds Rally Against Anti-Gay Fort Lauderdale Mayor Naugle [tr]
Fort Lauderdale Mayor Angers Gay Community Hours Before Rally [tr]
Flush Naugle: Gays in Fort Lauderdale Call on Mayor to Resign [tr]