Didn't get a chance to post this on Friday. It looks as though Mark Foley is pretty much off the hook in Florida: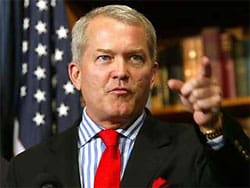 "That could change if new evidence surfaces in the next week that proves Foley, 52, sent online messages to male teenagers with the intent to 'seduce, solicit, lure, entice, or attempt to seduce a child,' a third degree felony under Florida law. But as of now, the end of Foley's political career may be the most severe consequence the former congressman faces for the revelations that stunned his longtime supporters and prompted his immediate resignation, just weeks before the 2006 election. The Fort Pierce Republican represented parts of St. Lucie, Martin, Okeechobee and Palm Beach counties. The Florida Department of Law Enforcement said this week the investigation should be completed within the next several days."
And since they don't have access to Foley's computers no such evidence is likely to materialize.