Season two Top Chef contestant Josie Smith-Malave was attacked at Partners Bar in Sea Cliff, New York over Labor Day weekend as she, her sister, and a friend were patronizing the establishment, her lawyer Yetta Kurland reports.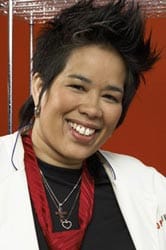 Kurland says the incident should be investigated as a hate crime.
According to the New York Daily News, "Kurland said the trouble started when the women went to Partners bar in Sea Cliff over the Labor Day weekend for a drink and began dancing together. Smith-Malave's sister is straight. Bar employees escorted the women out a side door after other patrons began making nasty remarks and the mood started getting ugly, Kurland said. Kurland said as many as 10 'young adults' followed the women out, circled them, screamed anti-gay slurs, spit on them and then punched and kicked them. A camera belonging to one of them was stolen, she said. Nassau police said they were investigating, but had made no arrests."
Newsday reports that "the women, who had been on Long Island to attend a friend's birthday party, suffered bruises, and one received injuries to her head. One of them had a camera taken in the attack.
Said Kurland: "They were together for an end-of-summer visit, minding their own business, when these people went after them, and we can't stand for this."