Gary Timmins, who received a four year prison sentence in exchange for his testimony against the other suspects in the murder of Michael Sandy, took the stand on Friday.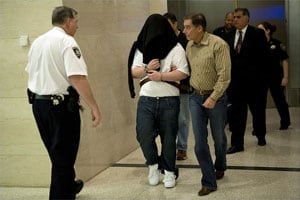 Last October, John Fox, 20, AnthonyFortunato, 21, Ilya Shurov, 21, and 16-year-old Gary Timmins lured Sandy via an internet chat room to a parking lot on the Belt Parkway where he was robbed, and, following a scuffle, forced into oncoming traffic. He was then hit by a car and sustained injuries that would keep him in a coma until his family later made the choice to remove him from life support. Sandy died October 13.
The New York Times reports that Timmins mumbled his way through the testimony, stretching "any reasonable definition of the term 'cooperating witness.'"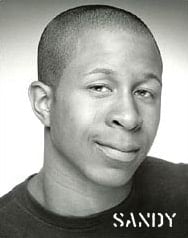 The paper reports: "Cutting a squat figure in sagging jeans and a butch haircut, he spoke in tones that seemed to defy amplification. He gave answers including 'hum,' 'hunh' and what sounded like 'mnyes.' Again and again, the judge implored him to speak up. A prosecutor, Anna-Sigga Nicolazzi, had to ask him at least half a dozen questions to elicit an acceptable identification of the defendants. Without pointing or looking, Mr. Timmins told jurors the men were 'over there.'"
Gerald di Chiara, the defense lawyer for suspect Anthony Fortunato, has been trying to make the argument that the murder cannot be classified as a hate crime because Fortunato himself is gay. That disclosure came in a shock announcement last week.
Di Chiara's argument that Fortunato could not have committed a gay-on-gay hate crime appears to be clouded by part of Timmins testimony. Timmins displayed to the jury that at least one member of the group was homophobic by revealing some last minute advice he offered to John Fox before the group launched their plot against Sandy in the Plumb Beach parking lot.
Advised Timmins: "Just don't let him touch you or none of that."
Witness Describes Chat With Gay Victim [nyt]
Recently
Jurors Hear of Instant Messages in Michael Sandy Trial [tr]
Defense: Screen Names, Sexuality, Suicide at Michael Sandy Trial [tr]
Michael Sandy Trial Shocker: Killer Says He Too is Gay [tr]