Yesterday, I posted about Barack Obama's intention to tour South Carolina for three days with a group of gospel singers in an attempt to shore up voting support from the black community in that state. Among them will be gospel singer Donnie McClurkin, a notorious homophobe who performed at the Republican National Convention in 2004, has vowed to battle "the curse of homosexuality," and believes that gays can be turned straight with religious intervention.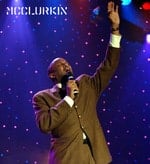 Late yesterday, Obama released the following statement:
"I have clearly stated my belief that gays and lesbians are our brothers and sisters and should be provided the respect, dignity, and rights of all other citizens. I have consistently spoken directly to African-American religious leaders about the need to overcome the homophobia that persists in some parts of our community so that we can confront issues like HIV/AIDS and broaden the reach of equal rights in this country. I strongly believe that African Americans and the LGBT community must stand together in the fight for equal rights. And so I strongly disagree with Reverend McClurkin's views and will continue to fight for these rights as President of the United States to ensure that America is a country that spreads tolerance instead of division."
So does this mean that McClurkin is still part of Obama's gospel tour? If so, I believe he has a big "ex-gay" problem on his hands.
You may have missed…
Barack Obama to Tour with Anti-Gay Gospel Singer [tr]