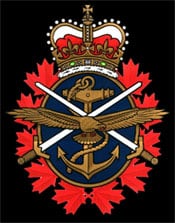 Two Canadian soldiers on leave from their mission in Afghanistan are due for sentencing for an anti-gay attack which occurred last May in Amsterdam. They reportedly spent 60 days in jail but were released on bail in July and assigned to a Canadian Forces installation in The Netherlands.
Canada's National Post reports: "The Dutch news media reported that the two men were involved in beating up a gay man and prosecutors are asking for an eight-month sentence for one of the soldiers, who is 22 years old. A second soldier, also 22, should be sentenced to six weeks in jail, according to prosecutors…The men were originally charged with attempted manslaughter, attempted criminal negligence causing bodily harm and public violence but there have been ongoing discussions to reduce those charges. The charges are under the Dutch criminal code and do not have an equivalent under the Canadian legal system, military officials said."
Specific details regarding the attack were not immediately available.