Gay businessman Tony Hoare bludgeoned to death walking his dogs in London. Motivation behind the attack is unclear.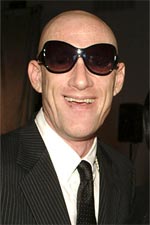 NYC downtown icon and gay performing artist Dean Johnson dies: "The six-foot-six promoter was found dead by authorities in Washington, D.C., but remained unidentified until this week. Police are still investigating the cause…At times a porn star and at other times a rock star (he fronted Dean and the Weenies and later the Velvet Mafia), he was always recognizable by his height (often augmented by heels) and brazen eyewear…" More from World of Wonder.

Taipei, Taiwan to hold carnival and gay pride parade this month. The carnival is this weekend. Said city official Jason Yeh: "The theme of this year's gay carnival is 'Teach You How to Watch a Gay Film'. We want the public to watch gay films in a relaxed atmosphere so that they can understand gay-related issues."

Fall auctions to test the art market bubble: "Doom-mongers are dubbing the blitz of forthcoming London sales as 'judgment week'. It will begin on October 11 with the opening of the Frieze art fair, which attracts dealers from all over the world."

Male Missouri high school student crowned Homecoming Queen: "His mother, Mary Ann Zaggy, said her son wanted to surprise his steady girlfriend at the dance tonight when the honor is formally bestowed. 'It's no big deal,' said [Marcel] Coleman, the homecoming king, although he was unsure how the traditional king-queen dance would play out. The school body voted for Zaggy, but he may have upset some students who consider the homecoming court no laughing matter."

Street Angels to take to the streets to thwart anti-gay attacks in Sydney: "The GenQ Street Angels want volunteers with policing, military, security or medical experience to join. They could be patrolling in Sydney's Oxford Street precinct and the King Street strip in Newtown as early as the first weekend in November. Organiser and GenerationQ.net founder Andrew Stopps said he hoped the patrols would initially focus on Friday and Saturday nights between 9pm and 3am, when as many as 10,000 partygoers flood Surry Hills, Darlinghurst and Paddington."

Newt Gingrich says he won't run for president.

Spice Girls reunion concert sells out in 38 seconds.

Anti-gay artists Elephant Man and Sizzla nixed from Toronto concerts over homophobic lyrics.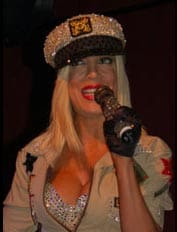 The Captain + Tennille = Tori Spelling?

Anti-gay wingnut's daughter to star in production of The Laramie Project: "Amy Contrada, author of the vehemently anti-gay MassResistance blog and tireless crusader against the Laramie Project play, failed to report that her own daughter will star in Acton High School's production of the play this November. Despite the fact that her daughter will play a TV reporter and serve as a Moderator for the play, which sensitively chronicles the death of Mathew Shepard, Contrada remains committed to organizing an anti-gay forum at the same High School in October."

Madonna to collaborate with Elton John? Elton: "Madonna is a great artiste and I think I shoot my mouth off too much, really. Who wouldn't want to work with her?"

Police accused of harassing LGBT gathering during opening week of UN General Assembly: "On Wednesday night, September 26, without provocation, officers from the 9th Precinct of the New York Police Department attacked lesbian, gay, bisexual and transgender community members who were attending an event organized by the Sylvia Rivera Law Project (SRLP). At the celebration, in front of M & R Bar, at 356 Bowery Street, two people were violently arrested without cause. Others were pepper sprayed in the face without warning or cause, and injured. Most of the people attacked by the police were people of color, and many were transgender."

7,000, including hecklers, show up for North Carolina's Pride Fest.