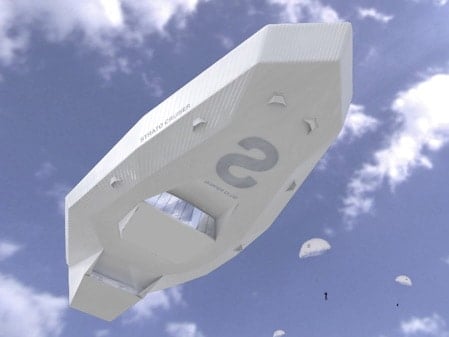 Please welcome Jon Barrett, who has harvested this week's tech news to present a feast of flying machines, pornographic spam, wireless beanbag computers, and directions on how to get that perfect shave in the dark.

Talk about flying first class. The Stratocruiser is only still a concept, but I'm ready to sign on as a frequent flyer. The creation of Tino Schaedler and Michael J. Brown, this "lifestyle zeppelin" is designed to make sure that getting there is much more than half of the fun. The luxury helium-filled airship contains a gourmet restaurant, a spa, a swimming pool, and resident DJ, and a kick-ass view.
(via Cool Hunting)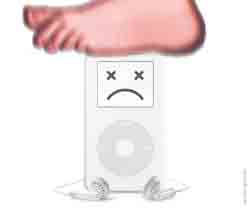 Wanna know whether the time has come to buy a new iPod? iPod Deathclock is a site that, using the serial number on your 'pod and gauging your usage, will tell you when the thing's going to die. Depressing? Sure. But it's a good thing to know if you're feeling the pull of the Mac marketing machine. My first-generation iPod video is supposed to last another 530 days (not bad), while my boyfriend's brand-new iPod classic should be kicking for 850 more days.
(via Gizmodo)

There's a ton of Apple news this week. First, the company cut the cost of the non-DRM songs, from $1.29 to 99 cents. The move puts iTunes closer in line with Amazon.com's music store, which opened last month. But a company spokeswoman told The New York Times that the price cut was not a response to competition. "It's been very popular with our customers, and now we're making it available at an even more affordable price." Mmmhmm. Next, they confirmed that the next-generation operating system, OS X Leopard, will be available October 26. (Check out all of Leopard's 300-plus features here.) Then the company announced it will allow third-party applications to work directly on the iPhone. Apple plans to release a software development kit in February that will let coders create applications to work directly on the iPhone and the iPod touch.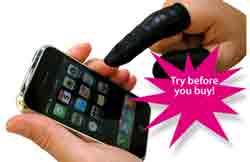 If you're more worried about finger smudges on your iPhone screen than you are your dignity, Phone Fingers could be the product for you. They're made of black latex, come in four sizes, and cost $9.90 for a pack of 25. But you'll still have to worry about that greasy cheek mark if you answer a call without the headset. Check out a video of the Phone Fingers in action here.

Digital is here to stay. Best Buy on Wednesday announced that it had stopped selling analog TVs and pulled all remaining stock from its store shelves. As Business Week reports: More than 60 million U.S. households rely on antennas or analog cable. But, beginning in February 2009, broadcasters will stop transmitting analog signals.


Art of Shaving has teamed up with Gillette for the Art of Shaving Fusion Chrome Collection Power Razor, which has a tiny spotlight to give you a better look at your face scraping.

As the result of the hilariously named Can-Spam Act, two men have been sentenced to more than five years in jail for sending pornographic spam. As Information Week reports: The men "began spamming in 2003, sending out millions of spam messages advertising hard-core porn sites. The messages contained graphic images that were available to whoever opened the email."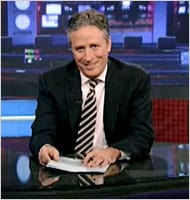 Comedy Central on Thursday posted eight years of episodes of "The Daily Show with John Stewart" on the show's website. Videos of every skit, every joke, and every guest are available for free, The New York Times reports.

Check out the Chumby, a squeezable wireless bean-bag computer. As Cory Doctorow on BoingBoing reports: "The little beanbag is completely open—from the flat-pattern for the bag, to the firmware for the device—and the way it works is, you subscribe to any of hundreds of 'widgets' that Chumby hackers have made and published. I use it as an alarm clock, Archive.org video browser, weather display, Flickr browser, and all-around toy."
S P O N S O R …
Newegg.com is this month's sponsor of Towletech. Computer Shopper's citation his year:
BEST PLACE TO BUY OVERALL (ONLINE): Newegg.com

The bushel of Shoppers' Choice awards that Newegg.com wins annually are a testament to how well-regarded the e-tailer is in the eyes of tech shoppers. Cheap shipping, low prices, and a huge inventory all help make the site a repeat winner in this category.
Advertise here with ModurbanMedia > Select.