Donald Fleischman, 37, of Allouez, Wisconsin, has been charged with two counts of child enticement, two counts of contributing to the delinquency of a child and a single charge of exposing himself to a child, after it was discovered that he had offered marijuana and a place to stay to two at-risk boys living in a juvenile treatment center across the street from his home. He was also charged with exposing himself and performing sexual acts on one of the boys.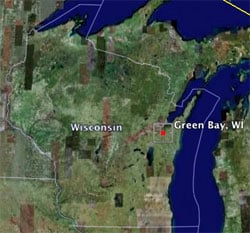 Fleischman has resigned from his position as the chair of the Republican Party in Brown County.
According to the Green Bay Press Gazette, "Green Bay police went to Fleischman's Goodell Street home Nov. 19, 2006, looking for two runaways from Ethan House, a juvenile facility on nearby Emilie Street, according to the criminal complaint filed Sept. 7. Fleischman opened the door and allowed officers inside where they found a 16-year-old boy hiding on the floor of a walk-in closet wearing only underwear and a T-shirt, the complaint said. Officers found a black, purple and blue-swirled glass pipe in the living room, which tested positive for marijuana residue, the complaint said. Police returned to Fleischman's home on Dec. 8, 2006, and found the boy there again. He had been a runaway from Ethan House for eight days. The teen, now 17, told authorities Fleischman took him to a hotel in Appleton during that time and then to a cabin near Florence for several days before returning to Fleischman's Allouez home. The boy said Fleischman provided him with beer and marijuana, the complaint said. The boy told police that when he would go to bed, Fleischman would fondle him and that on one occasion he awoke to find Fleischman at the foot of his bed masturbating."
Read the criminal complaint here. If Fleischman is convicted, he faces 52 years in prison.
Brown County Republican Party chairman faces sex charges [green bay press gazette]
Brown County GOP chair charged with child enticement, contributing to delinquency of a child [wisconsin politics]