As Florida Rep. Bob Allen, his wife Beth, and Allen's attorneys watched from a distance, the jury in Allen's trial toured Space View Park in Titusville and the men's rest room where Allen's alleged solicitation took place. Allen was arrested in July after offering an undercover police officer $20 for the opportunity to perform oral sex in a public men's room.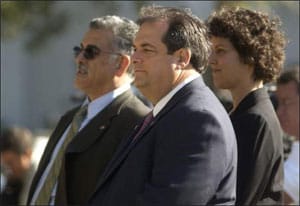 Florida Today reports: "The five women and three men also checked out the handicapped stall Allen is accused of entering to speak with Officer Daniel Kavanaugh. The layout of the park and restroom has been a key part of the testimony in Allen's trial, which continues today…Both the defense and prosecution had requested the jury make the 30-mile trip from the Moore Justice Center to the park. Afterward, the defense said the visit, which lasted under an hour, helped their case. 'I think it just drives it home,' defense attorney Greg Eisenmenger told reporters."
The latest excuse for why Allen was in the men's room (Allen previously claimed he was there because he was afraid of black men in the park and inclement weather) is that he has a small bladder: "State Rep. Bob Allen wasn't searching for sex when he entered a park bathroom five times in about an hour, he just needed to relieve himself after drinking too much iced tea, his attorney told jurors Wednesday during the first day of testimony in the legislator's trial on a charge of solicitation for prostitution. 'Unfortunately, nature does take its course,' said Greg Eisenmenger, who spent much of the afternoon grilling one of three Titusville police officers who played a role in Allen's arrest July 11 at Veterans Memorial Park in Titusville."
Lawyers have been arguing over what "hitting on someone" amounts to: "Allen attorney Greg Eisenmenger questioned how Jackson knew Allen was hitting on them. 'What was significant about someone looking at you?' Eisenmenger asked. 'From a men's restroom? There's something strange about it,' Jackson said. Jackson said he knew from a previous experience that men will look or stare at someone if they are trying to hit on them. Eisenmenger replied, 'Officer Jackson, I've been looking at you the entire time. Do you think I'm hitting on you?'… 'I don't know. Have you?' Jackson said, triggering laughter among the spectators."
Finally, one juror was released because she had a flight to catch.