California wingnuts launch referendum bid to overturn sexual orientation discrimination law in schools: "The legislation, Senate Bill 777, was signed by Gov. Arnold Schwarzenegger last month with little notice because the governor, at nearly the same time, vetoed the same-sex marriage bill. Conservative groups say the bill would require far-reaching changes in school curriculum and activities. 'This will mean either getting rid of mom and dad or adding a homosexual couple,' in a textbook, said Karen England, executive director of the Capitol Resource Family Impact."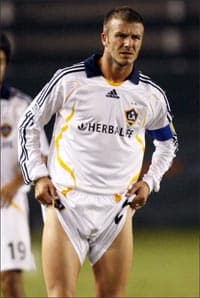 David Beckham gets himself caught up in the excitement of his Hollywood charity game for wildfire victims.

Giant "pig-like beast" discovered deep in Brazil's Amazon rainforest: "The newly named beast (Pecari maximus) was found in the basin of the Rio Aripuanã and confirmed to be a distinct species via a genetic analysis conducted by the Leiden Centre for Environmental Sciences in the Netherlands. Though new to science, locals already knew about the creature. Tupi Indians called it Caitetu Munde, which means 'great peccary which lives in pairs.'"

Shia LaBeouf arrested for refusing to leave a Chicago Walgreens. (mugshot)

Royal blackmailer Ian Strachan and accomplice are denied bail: " Lawyers representing Ian Strachan, 30, applied for bail at the Old Bailey but it was turned down by Mr Justice Gross. The hearing had been due to take place in private, but was opened to the press following legal representation by media groups. A previous application last week was adjourned after a few minutes because the lawyers needed more time to prepare. Strachan, who is in custody at Belmarsh prison, was not at the hearing." It was also recently revealed that Strachan's accomplice Sean McGuigan received funds from Prince Charles in 1993 to set up a car wash business: "He spent a £1,500 loan on buckets, sponges and cleaning fluid and a further £1,000 grant for other start-up costs for the firm Star Craft in Fulham, London."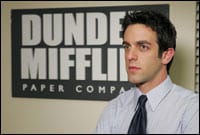 As Hollywood writers strike, some, like BJ Novak of The Office, are caught in the crossfire.

Jake Gyllenhaal lashes out at paparazzo. If you've got the cash on hand, you can join him for lunch.

Retired Catholic bishop charged with repeated sexual assault on 42-year-old Cuban man: "The suit alleges the Most Rev. Priamo Tejeda, a retired bishop of the Diocese of Baní in the Dominican Republic, began assaulting the man while Tejeda was an active bishop and continued the assaults over an 11-year period, most recently in Broward County in 2005. The suit doesn't say that any of the alleged assaults took place in Southwest Florida. The plaintiff in the lawsuit is identified by only his initials: 'J.G.' In the suit, J.G. alleges Tejeda contacted him in Miami in January 2005 to discuss employment opportunities within the Diocese of Venice, which has jurisdiction over 10 counties in Florida, including Collier and Lee. After Tejeda arrived in Miami, he drove J.G. to an apartment and then Tejeda forced himself sexually on J.G., the suit states. 'He was threatening him with deportation or arrest,' said J.G.'s lawyer, Ronald Weil of Miami."

Australian Prime Minister John Howard not amused by same-sex attraction query.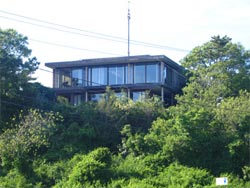 $12 million Modernist architectural "treasure" to hit the market in Provincetown: "Built by former Clark University psychology professor Carl Murchison and his worldly wife, Dorotea, the house has been off-limits to the public for years. Passersby seeking a glimpse of the house were shooed away by the Murchisons' reclusive daughter-in-law, who owned the house until her death earlier this year. But now, this unique property is at a pivotal moment in its history: The Murchisons' heir is selling the house. When it hits the market for about $12 million, as soon as this month, its fate will be subject to the whims of the luxury real estate market, which often values waterview properties much more for the development potential of the land than for the architectural significance of the house on it."

ABC News caught doing undercover story on gay kissing.

Sex sting at Daytona Beach's Volusia Mall nets former city commissioner and high school teacher. Police chief: "The reason that we did this sting is we all go to the mall; our kids go into the bathroom. That they could be susceptible to this kind of behavior is absolutely a disgrace."