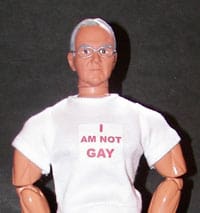 Online toy manufacturer Stupid.com is selling a Senator Larry Craig doll for the closeted Republicans on your holiday list.
Ays the doll when you press a button: "Thank you all very much for coming out today. I will read a statement: 'I am not gay. I never have been gay." The company says this is a preliminary photo of the doll. They're working on another one, preferably with suit, tie, and American flag lapel pin.
The company mentions that the doll even has a wide stance, but I wonder how well his toe taps?
And to be fair and balanced, they do also sell a Hillary nutcracker.
Larry Craig doll [stupid.com]
(via 365gay)