NYDN Widdicombe: Calvin Klein gets it in the rear from Donna Karan.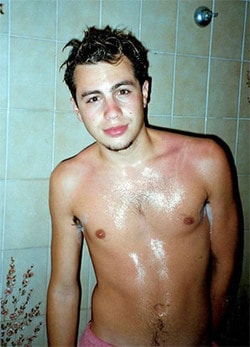 Tila Tequila contestant "Italian stallion" Domenico Nesci to get his own show. But first, he might want to wash the soap out from under his arms. Of course we could do it for him.

Girls Gone Wild creator Joe Francis claims abuse in jail: "His attorneys allege on the day he was supposed to be transported to Reno, Grady County guards made him dispose of his commissary — food, clothing and hygiene products — as well as his bedding and blankets for the move. 'While waiting in line to be transported to a bus, one of the guards instructed him to step out of the line. He was told that he would be 'going nowhere' and ordered back to his cell. Francis had already given his entire commissary away and had no bedding or blankets. The commissary could not be replaced for days,' his attorneys wrote in one legal filing. 'Mr. Francis again and again begged for a blanket,' they wrote in another legal filing. 'It was then that guards threatened to strip him and strap him naked to a chair, with only a hole for defecation, for 48 hours. Grady County jail officials were enjoying torturing Mr. Francis so much that, at one point, they even refused to turn him over to the U.S. Marshal.' The sheriff laughed at the accusations."

Philadelphia Mayor John Street presided over the same-sex commitment ceremony of Ryan Bunch and Michah Mahjoubian as anti-gay protestors waited outside City Hall. Mahjoubian: "As head of the city of Philadelphia, he lends legitimacy to what we've done today and that was important for us to do that in front of our friends and family." Our previous report here.

Apple's iPod acts propelling previously unknown musical acts to stardom.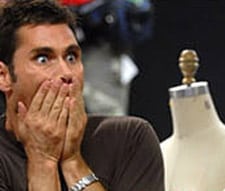 Documenting the Project Runway attack of Carrie Bradshaw.

Christian bookstores ban new Bible study guide that challenges anti-gay New Testament translations.

Chubb joins major companies Lehman Brothers Holdings Inc., Merck & Co., Ernst & Young LLP, and Toronto-Dominion Bank in offering on-the-job workplace-discrimination training to their employees: "Other employers include sexual-orientation issues in general training on inclusiveness, Mr. Peoples says. All told, 41% of 255 big companies surveyed by the Human Rights Campaign, a nonprofit advocacy group for gays in the workplace, offer some kind of training that touches on sexual orientation."

No, that wasn't the F-word you heard in the movie Enchanted, although it might as well be.

Seattle's Lifelong AIDS Alliance free condom illustration sending the wrong message: "An image of condom packet walking hand-in-hand with a rock of crystal will not reach men that are currently using crystal—most of whom abuse crystal meth to annihilate their inhibitions and engage in casual unprotected anal sex—while communicating to men that aren't using crystal that they can 'safely' use the drug and 'FUCK without fear.'"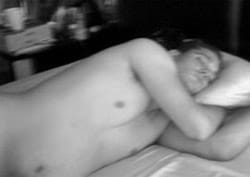 Follow the link for, I guess what you would call, a Bublé butt.

British Cabinet split over proposed hate incitement laws: "…despite strong backing from bodies such as Stonewall, the campaigning group for gay rights, the proposals have caused controversy and been condemned as a threat to freedom of speech, including from some prominent homosexuals."

Female medical assistant suing doctors group on Long Island after she allegedly refused to cover for a physician she says had sex with a younger male patient in an examination room: " Grundfast, an orthopedic specialist, 'told me he had a sexual affair' with the man, sometimes having sex in the examination room, sometimes elsewhere, Lloyd said. The doctor 'told me he bought a wig and lingerie, so [the patient] could envision he was a girl' when they had sex, she said."