A gay Philadelphia couple tells local station WCAU that they hope their complaints are finally being heard after years of abuse by vandals they believe are their neighbors. Javel Saudades and Daniel Hallacy live on the Philadelphia neighborhood of Kensington.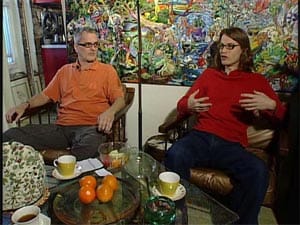 Said Javel Saudades: "They left [a phallic-shaped steel rod] on our doorstep. [It means] we'll stick it up to you. You better leave or we're going to stick it to you. They put 'gay faggot (expletive)' on the window. I'm embarrassed, I am stressed, depressed and afraid."
The abuse has reportedly been ongoing for three years but the couple finally believes they are making headway with the police.
Said Philly police Lt. Frank Vanore to WCAU:, "We'd like to make an arrest. If we find out who committed those crimes, believe me, they'll pay for what they've done. The problems with the particular neighbors is there's no evidence these neighbors perpetrated any of these crimes."
Said Hallacy: ""All we'd like is to live peacefully and to have a decent clean neighborhood…I didn't know that I was going to be a pioneer, you know, on a frontier of homophobia in this neighborhood in 2007 in Philadelphia. I think it's absurd."
Gay Couple Says They've Been Targeted By Hate [wcau philadelphia]