Rosie O'Donnell, who has suggested on her blog that she may soon be competing with Larry King, may indeed be coming to prime time with her own cable talk show on MSNBC: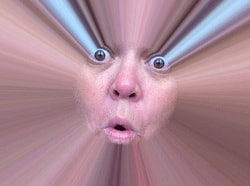 "Under one scenario, Ms. O'Donnell would be given the 9 p.m. slot each weeknight on MSNBC, where she would go head-to-head with two heavyweights of cable talk: 'Larry King Live' on CNN and 'Hannity & Colmes' on Fox News. Her show would replace 'Live with Dan Abrams,' a relatively low-rated program that only recently replaced 'Scarborough Country,' which was also little-watched."
Executives speaking anonymously have cautioned that talks are in the early stages, however.
And the New York Times wonders if Rosie's entrance marks a shift to the left for the network prompted by the success of Countdown with Keith Olbermann. A network honcho denies any agenda, however.
Said NBC News Senior VP Phil Griffin: "It happened naturally. There isn't a dogma we're putting through. There is a 'Go for it.'"