Former employee of Goodyear wins $4.4 million in sexual orientation harassment lawsuit: "According to the suit, Sheffield neither hid nor flaunted her sexual orientation until her former manager encouraged her to bring her partner to an annual company dinner, where she received an 'adverse reaction' from another store manager, In 2003, her former boss was replaced by a new district manager, defendant Randy Reich, and a new service manager, David Johnson, was assigned to the store, the suit claims. Johnson 'immediately let it be known … that he knew Sheffield was gay and did not like gays,' the suit claims. When Sheffield learned that Johnson carried a gun to work she confronted him about it and he confirmed it and threatened to pull it out and to urinate on her, she claimed in the suit."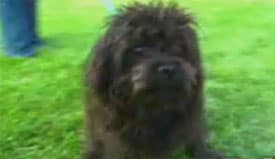 Iggy, the dog Ellen DeGeneres cast off to much publicity, is about to bark off in a new PSA to bring awareness to the importance of pet adoption.

Yale University Dramatic Association targeted by homophobic graffiti: "At approximately 1:30 a.m. last Wednesday morning, a group of undergraduates involved in the Yale Dramatic Association found the words "drama fags" on the wall, located near the York Street side of the theater. 'It's unacceptable,' Drama School Dean James Bundy said. 'It is deeply disturbing. I hope we find out who did it and I hope we can do everything in our power to make sure it never happens again.' Bundy said he was unaware of the incident before he was informed by the News on Sunday. Although most of the spray paint has been removed from the building, traces of the words are still visible five days later."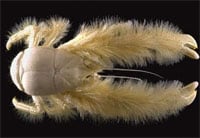 Next time you decide to broil that crustacean alive, you might want to think about whether or not you're causing it pain. The debate continues…

Australian gay activist dumped from Labor Party after physically intimidating the wife of the Environment Minister: "Mr Burns later described Mrs Turnbull in an email to Mr Turnbull as a 'fag hag impersonator of a wife' and condemning the minister as 'a weak and pathetic excuse for a human being'. The tirade came as the battle for the gay vote heats up in Mr Turnbull's Sydney seat of Wentworth, where Labor's candidate George Newhouse is polling strongly."

North Carolina Baptists set to expel church that welcomes gay people: "If all goes as expected, the 4,000-plus attendees at the Baptist State Convention will vote Tuesday morning to cast out Myers Park Baptist — but only after short speeches from two of the church's leaders. One — Nancy Walker, secretary to the church's board of deacons — is a lesbian."

Some NSFW preview news on the upcoming season of The Janice Dickinson Modeling Agency.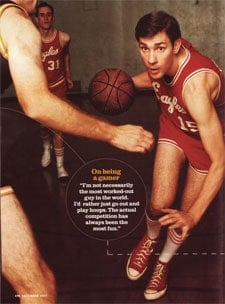 John Krasinski shoots some retro hoops for Men's Health.

New evidence surfaces suggesting "gay, wildly eccentric" King Ludwig II of Bavaria was murdered: "The real cause of King Ludwig's death has been a mystery ever since his body, together with that of his psychiatrist, was dragged from Lake Starnberg on 13 June, 1886. But the official version, which holds that he committed suicide by drowning, has never been completely refuted. Now, 111 years after the king's death, new evidence has surfaced which suggests that the builder of Neuschwanstein castle and many other bizarrely romantic architectural follies was murdered. The details are convincing enough to increase calls for the House of Wittelsbach, King Ludwig's family, to allow his body to be exhumed from its tomb in St Michael's Church in Munich to enable a new and conclusive post-mortem examination to be conducted."

Congratulations to Joe.My.God for winning the Best LGBT Blog at the 2007 Weblog Awards.

Queerty pays a video visit to the OUT 100 celebration.

POETRY: Is Pakistan's educational curriculum the target of a plant by the Bush administration? "In December 2005, a Pakistani youth discovered that the first letter of each line of a poem in his English primer spelled out the name of "P-R-E-S-I-D-E-N-T G-E-O-R-G-E B-U-S-H." The anonymous poem — called "The Leader" — listed the qualities of a great statesman in a series of painfully stiff rhyming couplets."

AfterElton takes a critical listen of a new musical offering from openly gay actor John Barrowman: "…most fans of the openly gay Torchwood and Doctor Who actor are likely to be aware that he has a background in musical theater, having appeared in shows from Anything Goes to Sunset Boulevard in London's West End. The new album, a set of covers which put an easy-listening spin on classic pop, soft rock, and yes, musical theater numbers might therefore seem to be displaying a fairly recognizable side of Barrowman, as opposed to, say, an album full of heavy-metal music.