Rising GOP presidential hopeful Mike Huckabee's recent statement that he stands by remarks he made in 1992 that people with HIV and AIDS should be isolated from the general population caused the mother of Ryan White to ask the Republican candidate for a meeting.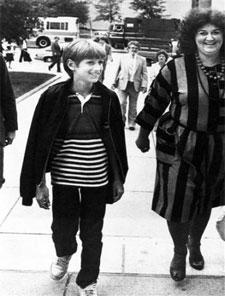 Ryan White's battle with the disease, which began in 1984 when he was 13 and contracted the disease via a blood-clotting agent used to treat hemophilia, brought untold amounts of publicity to the difficulties and challenges faced by people living with HIV and AIDS. White died in 1990 at the age of 18.
Said Jeanne White-Ginder to the AP: "It's so alarming to me. It's very important to me that we don't live in the darkness [when people thought AIDS was transmitted through casual contact, such as by] kissing, tears, sweat and saliva. We have to treat this disease like a disease, and like Ryan always said, not like a dirty word."
The Human Rights Campaign sent a letter to the Huckabee campaign requesting a meeting, and the candidate has agreed to one.
Said Huckabee: "I certainly never would want to say anything that would be hurtful to them or anyone else. I would have great regret and anxiety if I thought my comments were hurtful or in any way added to the already incredible pain that families have felt regardless of how they contracted AIDS."
Added the candidate: "I would be very willing to meet with them. I would tell them we've come a long way in research, in treatment."
HRC's Joe Solmonese responded to Huckabee: "I would like to inform Governor Huckabee that the mother of Ryan White, for whom the Ryan White CARE Act is named, doesn't need to be schooled about how far we've come in HIV/AIDS research and treatment."
Huckabee has denied that his comments in 1992 were a call to quarantine patients, though under the definition of "quarantine" that's exactly what he said.
I've attached the video of Huckabee's comments below. Jeanne White-Ginder called them "completely beyond comprehension."
Related
Mike Huckabee Stands By 1992 AIDS Quarantine Remarks [tr]